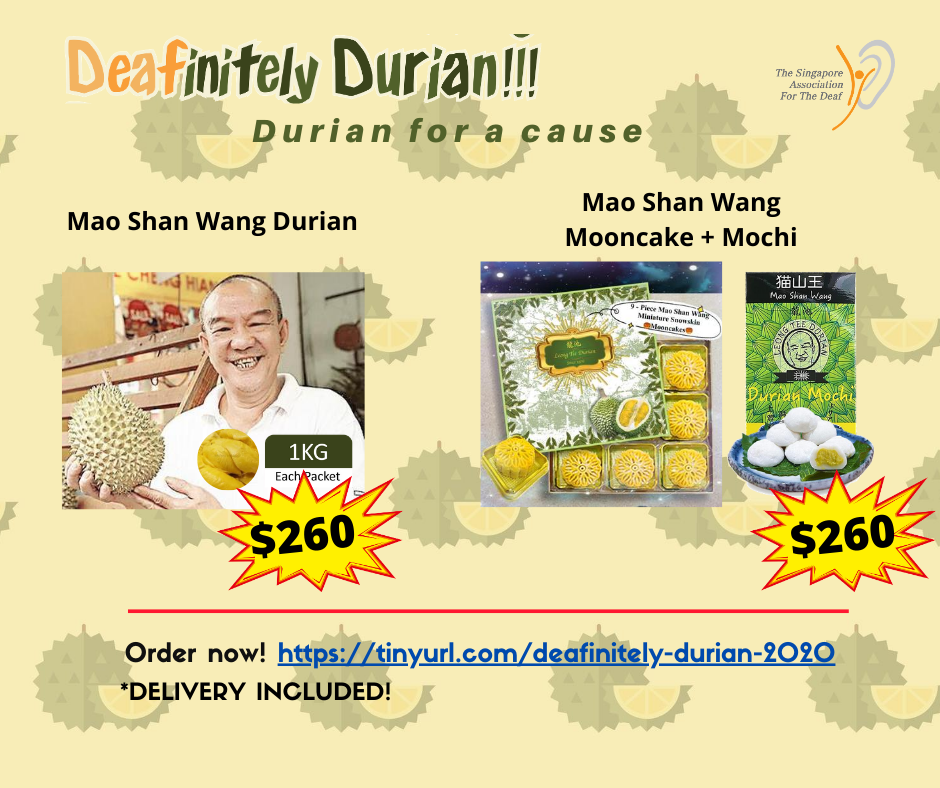 Our annual event, the "Deafinitely Durian" event goes online! Help us raise funds for the Deaf, Hard-of-hearing and Deafblind community in Singapore.
Option 1: Mao Shan Wang Durian  ($260 – *Delivery Included)
Each packet contains 1kg of Mao Shan Wang de-husk durians pre-packed in a sealed plastic box. This offer is subject to availability of the fruit in good condition while the season last.
Option 2: Mao Shan Wang Mooncake + Mochi ($260 – *Delivery Included) 
One box contains 9 pieces of miniature Mao Shan Wang Mooncake and one box of Mao Shan Wang Mochi packed in a cooler bag. These two items must be placed in the freezer if they are not consumed immediately after purchase.
*Delivery is unavailable to the following locations: Singapore Changi Airport, Airport Cargo Complex, Jurong Island, Sentosa Island, Woodlands and Tuas Links, Hotels
Payment instructions: Upon placing of order, a QR code will be sent to you for payment. Please screenshot the payment and attach the screenshot in your email. We look forward to your support. For enquries please contact Mr. Teo Zhi Xiong ca@sadeaf.org.sg.